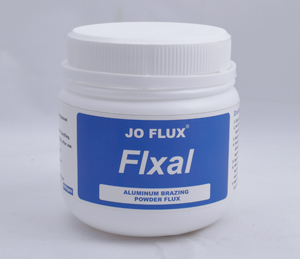 Jo flux® is 20 year old orgnisation engaged in providing one stop solution in welding, brazing & soldering fluxes. We deliver customized, industry based solution for metal joining process in refrigeration & air conditioning, tool making, automotive, plant construction & plumbing industry.

Jo flux® is commited to providing the highest quality products and sevices in the brazing and soldering industry.

It is our policy not to simply recommend and supply sutiabel fluxes-but also to advice you on how to construct your workpiece so that it is suitabel for brazing/soldering process. We can also advice on selection of brazing/soldering consumbeals, brazing machines & furnaces.
In 1993
Started as distributors (trading unit) for non - ferrous brazing alloys in the Indian market.
In 1999
Jo flux sets up in Bhosari, Pune region (about 15 km from Pune city) with the new building to manufacture industrial soldering fluxes..
In 2003
Sets up State-of-the-art laboratory and R & D Division.
In 2006
The industrial soldering flux range is expanded to new products in electronic soldering flux & brazing flux, Thanks to R & D Division.
In 2010
Sets up new plant in Khadakwasala, Pune region (about 12 km from Pune city) with the new building to manufacture inorganic chemistry base raw material (chemicals) required in manufacturing brazing & soldering fluxes.
In 2013
Bhosari plant starts exclusive production of electronic soldering fluxes (organic based chemistry).
In 2019
Started manufacturing of new generation brazing fluxes, free of boric acid & borex.
The purpose of the brazing flux is to promote the formation of sound brazed joints by protecting both the Base metal and filler metal from oxidation continually during the brazing cycle and preventing from Further oxidation from contact with the atmospheric oxygen. The brazing flux also serves to remove surface Oxides and therefore reduce the surface tension to promote freer flow of filler metal.